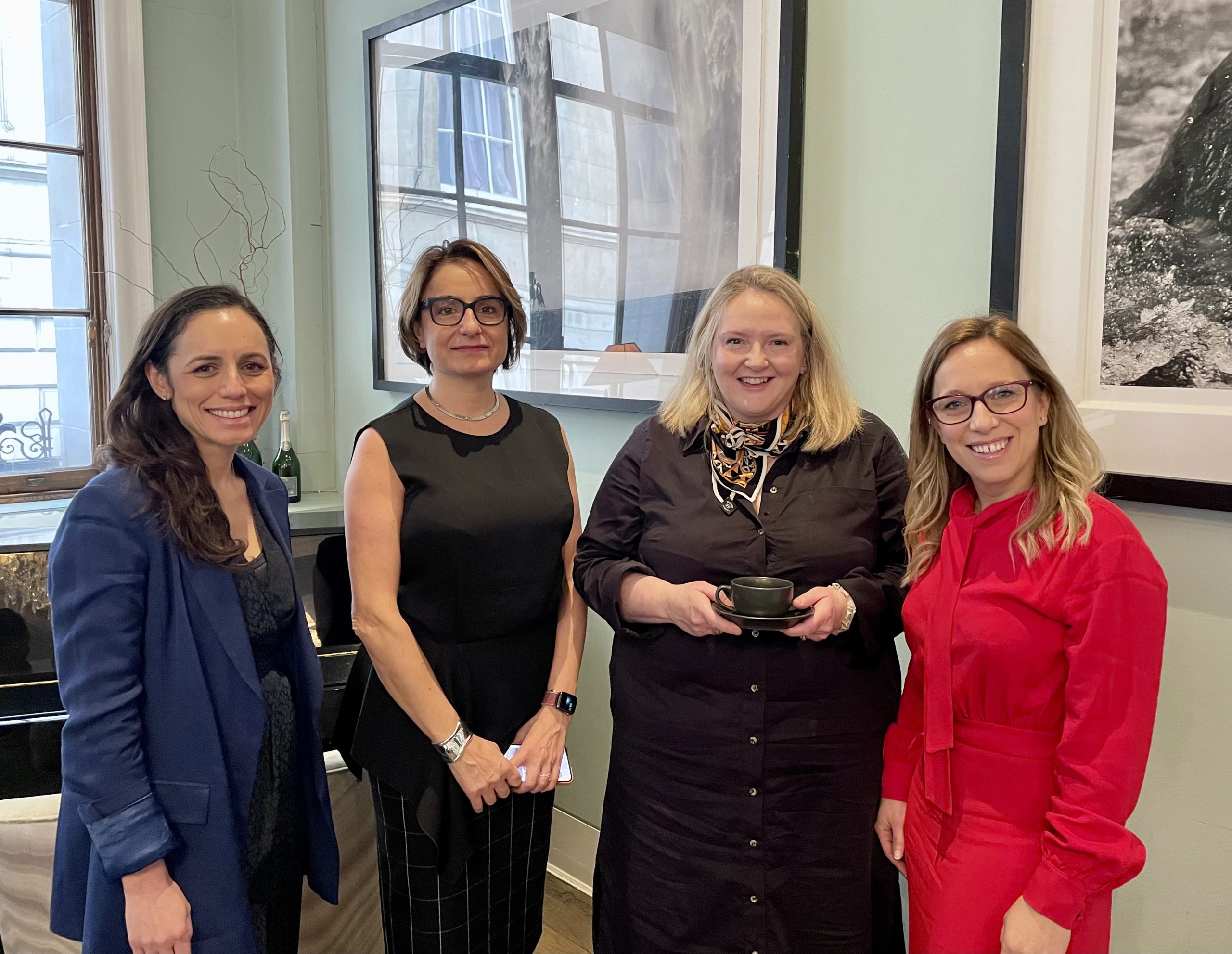 10 Jan

Harnessing our personal stories – A roundtable for International Women's Day
At Marsden we have a passionate belief in the power of personal stories – sharing them, listening to them, learning from them and drawing inspiration from them. That's why, for International Women's Day 2022, we hosted a roundtable for female lawyers – senior associates and junior partners in private practice, as well as in-house counsel – exploring the themes around breaking the bias. You can read Marsden's Karen Glass post about this on LinkedIn, here.

In tackling this topic – and in sharing their powerful stories – Karen was joined by Private Equity / M&A Partner and Co-Chair of the London Corporate Department at Latham & Watkins, Farah O'Brien, Chief Executive Officer at Bank of Montreal Europe plc Jane Anne Negi and Partner, General Counsel for Europe and Asia at Apollo Global Management Inc Seda Yalcinkaya.
Many of the topics raised will form the basis of future discussions and content, over the coming months. But we thought we'd share some of the headline discussion points now, as a way of demonstrating our commitment to sharing personal stories and to harnessing their power.
If you don't ask, you don't get.
This topic ran throughout the session and is one we'll come back to again and again, no doubt. It's about putting hands up, asking for what we want and not taking no for an answer. It's not something lawyers are generally skilled at yet can be a cornerstone of career success.
The power of career coaching.
We heard several stories about the impact career coaching has had on individuals – helping them to switch their mindset from feeling overwhelmed, to understanding how to tackle it.
Micro-aggression experiences and how to tackle them.
This was raised as something almost everyone in the room had experienced in some way. We discussed why people behave the way they do and how to learn to make peace with it and take it in your stride.
We can get real strength and value from the friendships we develop in the workplace. Too often we focus on 'professional networking' and forget the value this can have over time, as friendships form and become our network for the future.
A regular topic at roundtables, this was something everyone in the room admitted to feeling. We discussed a recent coaching session Kathy Brooke had led, dealing with this. We shared some practical tips such as leaning into it and turning it into understanding that it signifies your success, not your failure.
Balancing family life with a successful career.
Another regular topic for discussion, this raised some interesting questions that we hope to develop in future sessions and blog posts. Of particular interest was the subject of flexible working and how this can impact on the client relationship. Law firms say they want more women at senior levels and appear willing to offer flexible working. However, they're failing to join up the dots and to engage with clients on the subject – leaving them to expect full time, 'normal' hours and for the associate to manage expectations, rather than communicating their flexible working policy 'top down'. In discussing it, however, in-house counsel around the table said that they would love to hear more about such initiatives from firms, actively favouring those that took such initiative.
Female professional role models and their value.
We didn't need to tell those around the table that women going into private practice see a disproportionately low number of female professional role models. And we didn't need to tell the group that this needs to change. We hope that groups such as this, connecting senior in-house and private practice professionals with those developing their careers, can play an important part in establishing female professional role models for the future.
Host Karen Glass, Head of In-House Legal Recruitment at Marsden, said: "Everyone that attended shared their stories with honesty and integrity. Each of the senior in-house and private practice lawyers around the table was inspired by what they heard. There is huge power in hearing role models' stories – and having an open conversation around navigating careers as senior female lawyers – is essential to progression as well as wellbeing."
"The main theme that was heard loud and clear from the conversation was that you must ask for what you want, speak up and advocate for yourself. As a recruiter and a coach myself this is something I feel passionately about. I advise it no matter where they are in their career journey. I'm excited to see where this conversation goes and look forward to supporting the sharing of powerful, personal stories in the future."
Karen started her career as a lawyer with CMS Cameron McKenna before moving into legal recruitment in 2008. Karen previously worked as a director in a boutique agency where she recruited lawyers into FTSE 100 companies. She is also a licensed career coach. For more information about our work in In-house Recruitment, to talk to Karen, or to enquire about joining future events you can contact us here. You can also connect with Karen via LinkedIn here.